Your Senior Leadership Team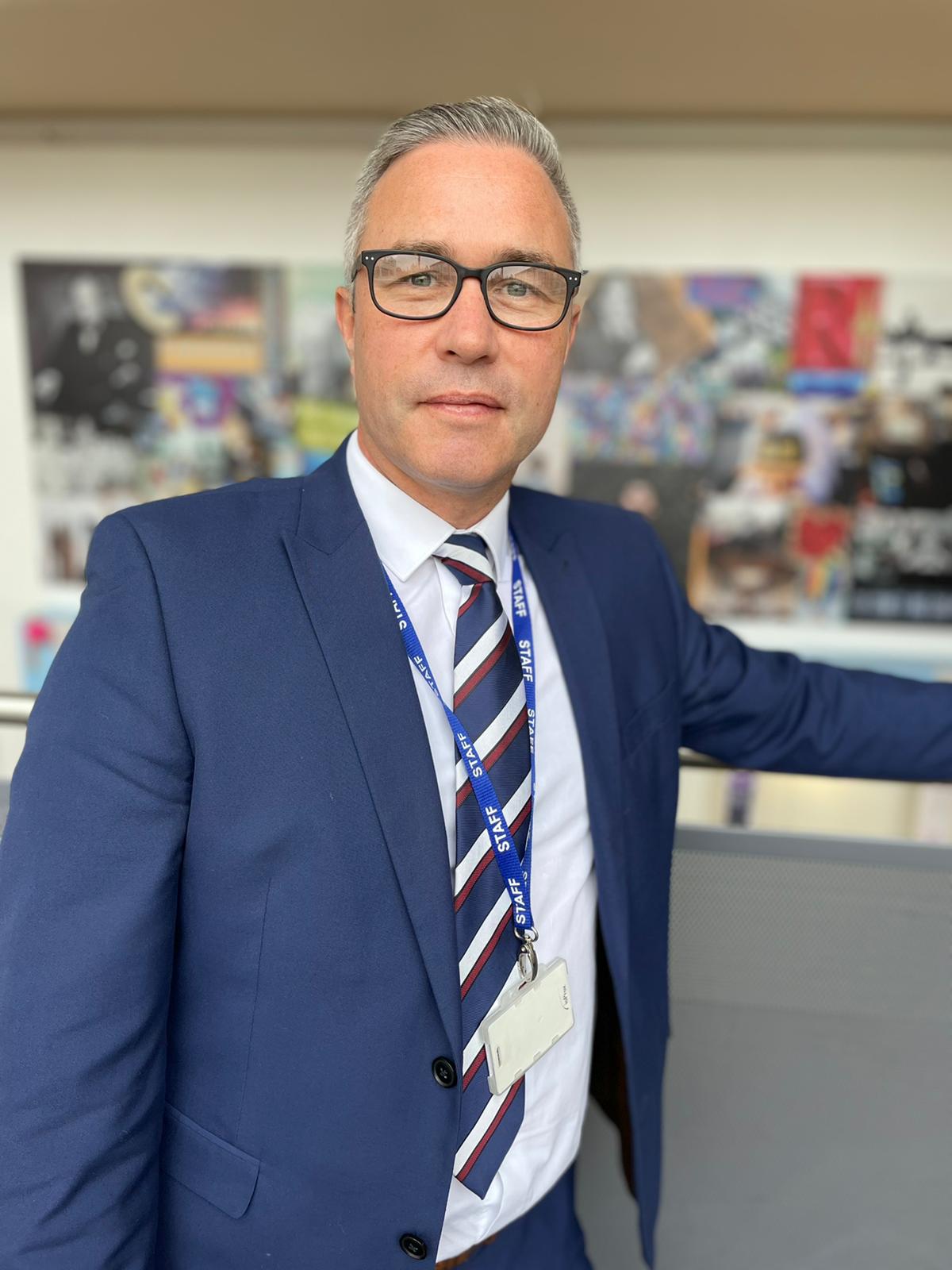 Mr Gibson BA Hons, PGCE, Cert Ed Leadership, MCCT, FRSA
Headteacher
Mr Gibson is the proud Headteacher at North Bromgsrove High School having joined in September 2018. He studied Industrial Design and Technology at Loughborough University and went on to complete his PGCE, and later, pursued a post-graduate in Educational Leadership at Leicester University.
He started his teaching career in 1998 in London and since then has worked across a range of schools in both the independent and state sector to gain essential leadership experience and teach across a range of contexts. Before joining North Bromsgrove Mr Gibson was the Headteacher of an Ofsted rated 'Outstanding' school and later he, as the CEO, launched a Multi-Academy Trust of five schools across the primary and secondary phases.
Mr Gibson is committed to ensuring that North Bromsgrove is the 'school of choice in the area' and is passionate about providing an education which, through exciting high-quality teaching and offering an exceptional level of pastoral care and enrichment, every student has the opportunity to flourish. He subscribes to the school motto 'Studies Determine Character' and takes pride in witnessing students work alongside staff in developing the necessary skills, knowledge and confidence to achieve their goals and aspirations as they go on to make a positive contribution to global society.
Mrs Ingram BA Hons, PGCE, NPQSL, SLE.
Deputy Headteacher
Mrs Ingram is Deputy Headteacher at North having joined the school in January 2019. She is a graduate of the University of Wales Aberystwyth, having studied English and Art History where she also completed her PGCE. She started her career in 1995 in Solihull and then moved to Walsall to gain wider experience in a larger 11-18 school. She moved for promotion to a school in Warwickshire and spent 15 years on the leadership team driving teaching and learning and subsequently leading a teaching school which allowed her to support schools in challenging circumstances. Having delivered NPQML and NPQSL courses for many years, she passionately believes in the strength of leadership development programs to grow new leaders and strengthen provision for students. She prides herself on having high expectations and working hard to foster our North family culture.
Mrs Ingram chose North as an exciting school to work at with students who deserve the very best on offer in terms of teaching, learning, and enrichment. She could see that it was a school that was working to ensure it had high aspirations for success with a strong culture of behaviour for learning and therefore she wanted to help lead that journey to be one of the best schools in Worcestershire by working alongside the Headteacher.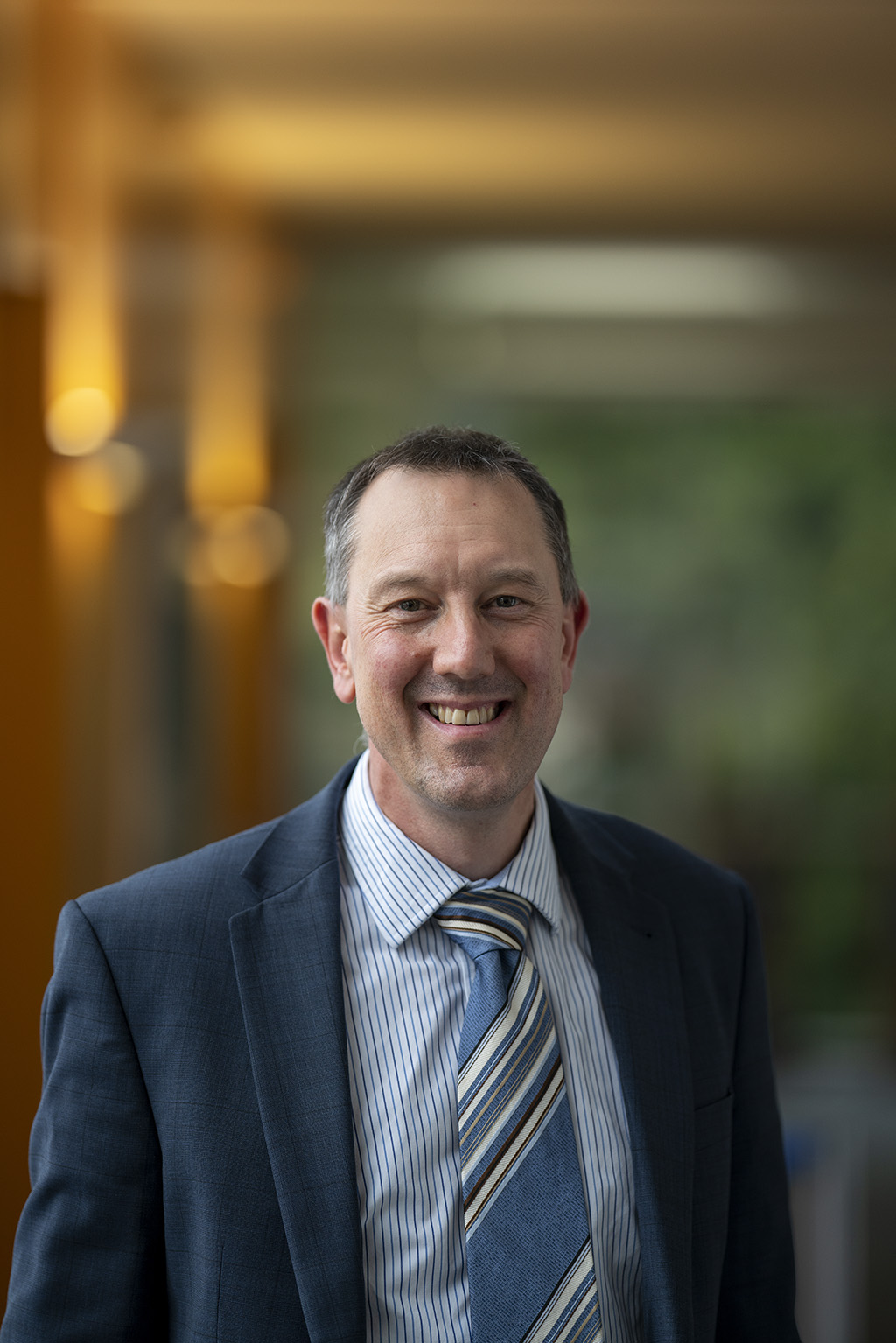 Mr Smith BSc Hons
Business Manager
Mr Smith is School Business Manager at North having joined in January 2021. He is a graduate of the University of Newcastle-Upon-Tyne, a Russell Group University, where he studied Mathematics with Physics and Chemistry.
Mr Smith worked in finance before joining a packaging business where he held positions as Quality Manager, Operations Manager, Purchasing and Operations Director and Managing Director. Subsequently Mr Smith has taken on roles including General Manager of a metal testing laboratory owned by the US Fortune 500 company PCC and Regional General Manager responsible for numerous manufacturing sites across the UK. After 20 years in business and commerce, Mr Smith entered education in 2014 and has sat on the Senior Leadership Teams of schools in the West Midlands area with Finance, Business, Data and IT responsibilities.
Mr Smith is passionate about ensuring students receive a breadth of opportunities within their education, enabling them to take full advantage of their talents. Promotion of extra-circular activities for all is very important to Mr Smith who has travelled far and wide to over 80 countries across the globe, has a private pilot's licence and is a keen sportsman particularly enjoying tennis and also trekking in the local hills. Developing these opportunities for students to explore their skills, readying them for entering the workplace is a focus for the school and attracted Mr Smith to the North Family.
Mrs Hodgson BA Hons, PGCE, NPQSL.
Assistant Headteacher
DSL
Mrs Hodgson is Assistant Headteacher at North having joined the school in September 2018. She is a graduate of St Mary's University (University of Surrey), which is based in Twickenham, where she studied History with English. Following three years in Twickenham, Mrs Hodgson moved to Chichester on the south coast to complete her PGCE at the University of West Sussex.
Mrs Hodgson began her career in Birmingham, having moved to the Midlands in 2001. She worked at a school in South Birmingham for 17 years, working her way through a variety of different pastoral roles, developing her leadership and management skills throughout. Pastoral care is at the centre of all that she does, embodying the CARE values at the heart of our North Family.
As soon as Mrs Hodgson entered North Bromsgrove she felt a warming and friendly environment and was therefore excited at the prospect of joining a school that was working towards being the best in the area and the school of choice for families in Bromsgrove. Mrs Hodgson is passionate about ensuring that the students at North Bromsgrove feel valued, cared for, and safe so that they can achieve their very best. Fostering a strong culture in behaviour for learning and pastoral care has been an exciting journey so far and Mrs Hodgson can't wait to see where the next phase in the journey will take North Bromsgrove High School.
Mr Taylor BSc CHons, PGCE
Assistant Headteacher
Mr Taylor is Director of Sixth Form/Assistant Headteacher at North Bromsgrove and officially joined the school in September 2020. As a former student of North Bromsgrove High School, he went on to study Business Administration and Society & Government at Aston University before working for several years as a Senior Recruitment consultant for the likes of Parity and TMP Worldwide. After spending some time travelling, Mr Taylor completed his PGCE at Worcester University and has been working for the last 19 years in education. He worked for many years for a school in Halesowen, working his way up to Deputy Head. As the school became part of a larger trust, he was seconded into partner schools to help drive school improvement, culminating in taking on the headship of one trust school. Mr Taylor is passionate about challenging students, supporting them to exceed their own expectations, and providing the same level of opportunity to students at North that might be afforded to students in the very best academic institutions in the country.
As a former student at the school, Mr Taylor jumped at the opportunity to rejoin the North family. Having experienced the transformation of the school through the eyes of a parent, he is now keen to play his own part in making positive and significant differences to the life chances of students at North Bromsgrove.
Mrs Jenkinson BA Hons, PGCE, SENCO NA
Assistant Headteacher
SENCO
Mrs Jenkinson is an Assistant Headteacher at North having joined the school in January 2018. She is a graduate of Worcestershire University where she studied Drama and Theatre Studies and then completed her PGCE at Birmingham City University. Following her PGCE, Mrs Jenkinson completed her NQT year and many years thereafter at a large Catholic secondary school in Hagley where she taught Drama, was a Head of Year, and an Assistant SENCO. It was at this time she completed her SENCO National Award at Worcester University. She has always had a passion for students who find academic studies more challenging and works relentlessly to make sure these students experience success.
Mrs Jenkinson chose North because she was excited to lead in a school where the passion and heart of everything were the students. From the first visit to the school, she saw the brilliant work of the SEND team and their dedication to the students who were working tirelessly to support students in their learning.
Miss McKenzie BMus Hons, PGSE, SLE Music
Assistant Headteacher
Miss McKenzie is Assistant Headteacher at North having joined the school in September 2020. She is a graduate of Birmingham Conservatoire having studied Music and specialising in Operatic Studies. Prior to teaching, Miss McKenzie performed professionally with performing arts companies including the English National Opera, and is a member of the professional performance choir Birmingham Voices, most recently accompanying Russell Watson on Tour and performing with Katherine Jenkins on Songs of Praise.
Miss McKenzie later went on to complete her PGCE at Birmingham City University and started her teaching career as a music teacher at a secondary school in Solihull in 2008. She continued to gain a variety of experience teaching music and leading departments across a number of schools throughout Warwickshire and Worcestershire. She has been a Trust Lead of Music in a local Multi-Academy Trust and is also a Specialist Leader in Education for Music and has provided support to a number of local secondary schools in various local authorities.
Miss McKenzie is responsible for Co-curricular; she is also Head of Music and is fully committed to raising the profile of music and providing all students with the opportunities to be part of extracurricular music groups, performances in concerts, school productions, organising music trips, and getting music industry professionals and performers to come in and work with the students.
Mrs Bridges BSc Hons, PGCE
Associate Assistant Headteacher
Mrs Bridges is Head of Science at North having joined the school in September 2009. She is a graduate of Essex University having studied Biochemistry & Molecular Medicine before completing her PGCE in Chemistry at Birmingham University. She started her career in 2000 in Solihull where she was KS4 Science co-ordinator and led the Year 7 PSHE curriculum. In 2009 she moved to North to gain wider experience and teach A-level Chemistry. During her time at North, Mrs Bridges has been Head of Chemistry and is currently Head of Science alongside her Associate Assistant Headteacher role.
Mrs Bridges firmly believes in fostering excellent relationships with students, parents and staff both in and outside the classroom. She loves nothing more than to help build confidence in young people and passionately believes that student's journey through school should be a positive experience in terms of teaching, learning and enrichment.
Having been here for over ten years, North is in Mrs Bridges' heart and she cannot wait to continue her journey as part of the Leadership Team and support in building the strong culture and high expectations that have already begun.
Mr Goodyear BA Hons, PGCE, NPQML
Associate Assistant Headteacher
Mr Goodyear is an Associate Assistant Headteacher at North having joined the school in April 2019. He is a graduate of Worcester University having studied Business Management where he also completed his PGCE. He started his career in 2007 in Solihull and then moved to Halesowen to gain further experience within a larger high school. Whilst in Halesowen he was promoted to a number of positions with differing levels of responsibility from departmental to the whole school. He has trained many new teachers over the years and is passionate about developing staff into becoming the best educators possible in order to provide students with the highest quality of learning. He has high expectations and continually looks at the improvement in his own teaching in order to work hard and ensure student success.
Mr Goodyear chose North as his next career move to work at a school that he knew had the potential to be the best in Worcestershire. He saw that the school was working hard to ensure that students aspirations and achievements were continually improving, and the quality of education provided within the classroom was a key area of focus that he could have a positive impact upon and support the journey to outstanding. Mr Goodyear firmly believes that every student can be a success and wanted to be part of the leadership that was able to achieve this at North.
Mr Salmon
Associate Assistant Headteacher
Mr Salmon is an Associate Assistant Headteacher who joined us in March 2020. He studied an honours degree in Design & Technology for Industry at Manchester Metropolitan University and then studied his PGCE at Edge Hill University.
Mr Salmon began his teaching career in Preston where he spent 4 years teaching at a large secondary school. He then moved down to Birmingham and into Warwickshire for a further promotion enabling him to teach in a range of schools. He has worked as Head of Department for Technology, Head of Faculty whilst also being a Pastoral Lead for the welfare and safeguarding of over 230 students.
Mr Salmon joined North Bromsgrove because he believed in the potential of the school and could recognise its success. He could see the care that was put into the students' welfare and the passion the staff had for their subjects and ensuring each student achieved their potential.
The full staff list and their contact emails is HERE.