Heads of House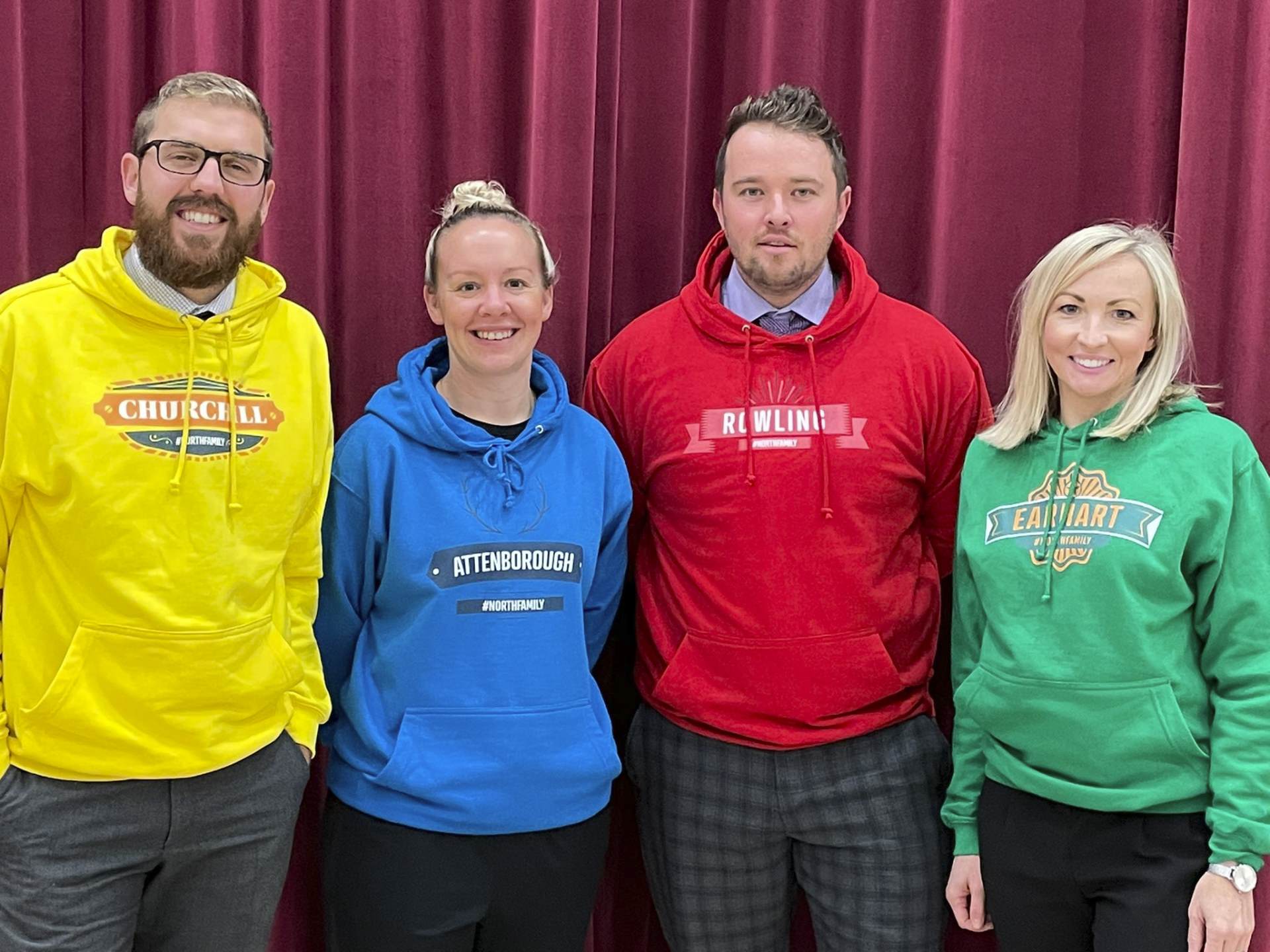 Churchill House
Welcome to Churchill House!
Hi. Welcome to Churchill I'm your Head of House Mr Darby. I've got the best job in the world in teaching Maths and love to help others harness their competitive spirits, interests and gifts through the house system. Whatever, the event I want those in Churchill giving it their all and enjoying themselves.
So why the name 'Churchill'?
I wondered the same when I got the job!!! However, with a little research, it turns out that Winston Churchill was a "pretty" influential Prime Minister during the Second World War. Who would have thought it?
What fascinates and inspires me about Winston Churchill is not his renowned leadership of this country through the Second World War, his inspiring speeches or his many other achievements. But the fact that he made many mistakes (some high profile and controversial), never gave up, learnt from these mistakes and achieved so much in his life. I feel we can all use this as an example when learning and in life.
This attitude is summed up in our house motto – 'Sic Parvis Magna'. This roughly translates to From small things, great things come or Greatness comes from small things.
Churchill = Community
In Churchill our core value is Community. I see this as building a community within our house led by our House and Sports Captains and taking an active part in the NBHS and local Bromsgrove community.
Our vision
A community doesn't just happen, and this is something that I want Churchill to lead the way with. In supporting one another around the school, in house events, celebrating our achievements and learning from our failures. I want to encourage each member of our house to get involved in some way throughout the year, whether that be direct with house events or in some other way. I want Churchill to lead the way in participating in house events and in events that help make our community a better place to study and live in.
Attenborough House
Welcome to Attenborough House!
Welcome to Attenborough I am your Head of House Miss Shipman. I am also a PE teacher at North Bromsgrove High School. As a PE teacher, I am naturally competitive, and I always strive for Attenborough students to do the best they can possibly do for themselves and our house. In Attenborough, we encourage everyone to showcase their talents and to always give things a go!
Sir David Attenborough doesn't really need an introduction...
Sir David Attenborough is an English broadcaster, writer and naturalist. He is 93 years old and still writing and presenting today! He is most famous for television series such as; Life on Earth, Blue Planet, Planet Earth and Dynasties.
Attenborough is a key influential person and was knighted in 1985 for his contribution to the natural world. Through our house system, we promote democracy and our students here at North voted for their house names with Attenborough being a very popular choice!
Attenborough = Aspiration
'A hope or ambition to achieve something'. In Attenborough house, we strive to be the best that we can be, both as individuals and as a community, as our house slogan suggests 'Individuals united as one'. Inspired by the hard work and commitment shown by Sir David Attenborough throughout his career, we aspire to achieve success by incorporating our school CARE values into every day.
Our vision
Over the next three years, we endeavour to further build upon our house system in school to create an even more exciting and inclusive environment for everyone here at North. Within Attenborough, we aim to increase participation in house competitions and charity events of all of our members and increase the healthy competitive spirit to encourage students to be the best that they can be as well as helping and encouraging others along the way. To help Attenborough achieve this we will be looking upon our house captains, ambassadors, and sports captains to lead the way in encouraging aspiration, respect and endeavour amongst all members of the house around school and represent Attenborough with confidence and pride.
Rowling House
Welcome to Rowling House!
Hello! I am your head of house, Mr Kimberlin. I am a teacher of Science and have been at North Bromsgrove High School for 4 years.
Anything is possible, if you've got enough nerve" J.K. Rowling
Who is J. K. Rowling?
J.K. Rowling, is a British author and screenwriter best known for her seven-book Harry Potter children's book series. The series has sold more than 500 million copies and was adapted into a blockbuster film franchise.
Rowling = Respect
Our core values link to RESPECT. We pride ourselves on many of the qualities demonstrated by our ambassador:
Never giving up!
Believing in yourself!
Being passionate!
Working hard!
Belief in that it really is never too late!
Our vision
Increase the number and variety of house competitions running each term and increase the participation within our house and across the school.
Continue to imbed the culture of the house system throughout the school and the house, through ambassadors, house/vice and sports captains.
Create a more competitive atmosphere between Rowling tutor groups, and reward as many students as possible.
To raise more funds each year through house competitions for our dedicated school charity.
To bring awareness to the issues in society, and campaign to increase awareness.
To be the leading house within the school in demonstrating the CARE values, through positive choices both in the classroom and through extra-curricular activities.
Earhart House
Welcome to Earhart House
Hello and welcome to Earhart! I'm your head of house, Miss Travers. I love my job as I am very competitive and a strong believer in a team effort! I also teach GCSE Art and A Level Photography and enjoy seeing students develop their artistic skills and participating in the creative house activities we offer. Within Earhart we aim to show traits revolved around a sense of endeavour and challenging ourselves.
In the words of Amelia Earhart herself - "The most effective way to do it is to do it"
Who is Amelia Earhart?
Amelia Earhart is our house founder and is most famous for being the first woman to fly solo across the Atlantic Ocean in 1932 – taking her over 21 hours. As well as being an aviator and public speaker, she studied medicine, campaigned for women's rights and became a fashion icon to women worldwide. Earhart's final challenge was to fly around the world in 1937 but never returned. People feared the worst and she was officially declared dead January 5 1939.
Earhart = Endeavour
Our core values link to Endeavour. We challenge ourselves to achieve in all we do from academics, sporting achievements and personal challenges. We strive to be successful and work outside of our comfort zone. Just like our house founder did as she took on the challenge to fly around the world.
Our vision
Over the next three years, we are dedicated to increasing the number and variety of house competitions that we run in order to get more students involved in activities they enjoy. We have listened to our student voice suggestions and look forward to rolling out a new and exciting programme of events this year. We also have our amazing new house logos and house badges to promote each house identity and we will be launching our updated calendar of events after half term. New house captains, vice captains and sports captains will be helping to promote the importance of our house ethos here at North Bromsgrove. Our aim is to create a more competitive atmosphere within the house challenges and to celebrate endeavour and achievement through assemblies, termly rewards and vouchers. Within Earhart, we strive for each student to feel a valuable member of the house and our North family community. Remember that every house point you receive goes towards the total for Earhart house so we all have a part to play!